"I didn't know one word of English, I had never been in cold weather and all I wanted to do was run back to my mom's house in the Dominican Republic".
While most 15 year olds are trying out for their freshmen baseball team, Yorkis Perez (one of Global Baseball Adventures guest MLB coaches) had just signed a professional contract with the Minnesota Twins and was about to make his professional debut for the Elizabethton Twins of the Appalachian League.
The year was 1983 and Yorkis Perez was literally a boy amongst men (the average hitter in the Appalachian League was 20 years old) and everything in Elizabethton, Tennessee seemed to pose a challenge. "Every hitter had muscles like I had never seen before, the food didn't smell or taste like anything I recognized and at 6'0 tall and 120 lbs finding a uniform that didn't look like a dress was a challenge!", said Yorkis during GBA's 2017 summer trip.
Yorkis finished his first professional season with a whopping 20.25 ERA but on the rare occasion when he was able to call his mom Rosa in the Dominican Republic, she would always utter the following words: "Tomorrow's a new day". These words would help guide Yorkis through the ups and downs of professional baseball, personal tragedy and he'd eventually share his wisdom with the high school baseball players from Mill Valley, California during their 2017 summer trip to the Dominican Republic.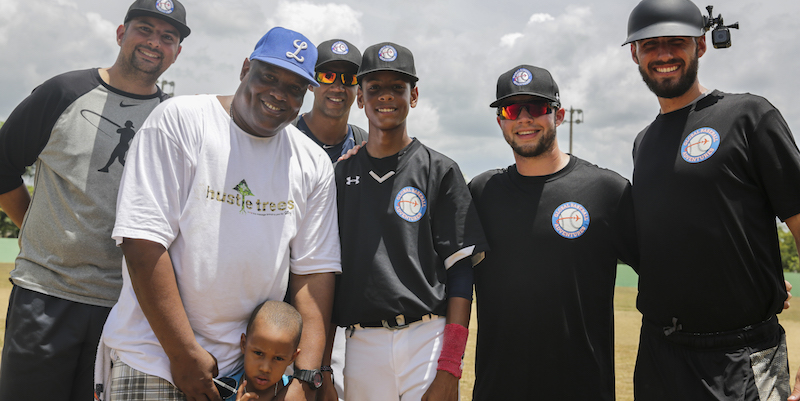 Yorkis would spend the next eight seasons toiling in the minor leagues without as much as even getting a whiff of the Major Leagues. Long bus rides, games in cities that Yorkis struggled to pronounce (try pronouncing Kenosha, Wausau & Waterloo with just a years experience of English!) & paychecks that barely covered living costs would eventually take it's toll. During those eight years one constant always kept Yorkis focused on his goal of reaching the Major Leagues: mom's advice, "Tomorrow's a new day".
A Call from the Cubs
That new day came on Yorkis' 23rd birthday in 1991 when the Chicago Cubs called him up to the Big Leagues where he struck out the only batter he faced. Riddled with injuries and a losing record, the Chicago Cubs made the call that Yorkis had spent his entire career waiting for. Although Yorkis was only with the Cubs for the final six games of the season, he was forever grateful to his mother Rosa for never allowing him to give up on his dreams of reaching the pinnacle of baseball.
Yorkis' MLB dreams were quickly dashed when after the 1991 season he was released by the Chicago Cubs and shipped halfway across the world to Japan where at 24 years old he was considered "washed up" according to MLB standards. "Tomorrow's a new day son", echoed in Yorkis' head as he pitched for the Yomuiri Giants of the Japan Central League in 1992. "The Major Leagues seemed so far away when I was playing in Japan but my mom, my #1 cheerleader, kept me focused", said Yorkis during GBA's summer trip. After a rocky performance in Japan, Yorkis got the call that his mom always promised him would come: another shot at the Big Leagues!
A Return to the USA
Yorkis was back in the U.S. for the 1993 season pitching in the minor leagues for the now defunct Montreal Expos. Although Yorkis' dream of getting back to the Majors didn't happen in '93, pitching stateside was the next best thing. After a strong minor league season in '93, an off season that allowed Yorkis to spend time in his native Dominican Republic, and a new training regiment, Yorkis exploded back onto the Major League scene in 1994. The next 7 seasons were a dream come true for Yorkis as he pitched for the Florida Marlins, New York Mets, Philadelphia Phillies and the Houston Astros. For those seven seasons, Yorkis never again had to experience the long minor league bus rides through small towns that you'd miss if you blinked.
As is the case in professional sports, one bad season and a change in management can be the end of one's playing career. Looking at the back of a Yorkis Perez baseball card and seeing a 5.16 ERA, it's clear that 2000 was that career changing season for him. Released by the Houston Astros at the end of 2000, not a single MLB team called Yorkis offering him a pitching job. Contemplating retirement and seeking advice, Yorkis turned to his #1 fan. "There she was again, telling me the same words "Tomorrow's a new day" and it made all the difference to me", recalled Perez.
Without a single job offer from an MLB team in 2001, Yorkis once again packed his bags, grabbed his passport and set off outside of the US for one more chance at getting back to the Big Leagues. This time, instead of flying across the Pacific to play ball, Yorkis traveled south and joined the Mexico City Diablos where at 33 years old he was the old man on the block. Despite this being Yorkis' 23rd professional team, he was grateful for the opportunity to be able to pitch professionally and sure enough mom's words catapulted Yorkis back to the Majors one last time but it came at the ultimate price.
"Yorkis, I don't want you to pitch in Mexico next season", Perez remembers his mom saying to him. The Mexican League season had just wrapped up and Yorkis was visiting family in New York before flying to a family gathering in the Dominican Republic with his mother Rosa. Although not a single MLB team called Yorkis the season prior, the Arizona Diamondbacks made a call to Yorkis that would forever change his life: one final chance at making a big league club. However, the Diamondbacks offered just that: a chance. At 34 years old, the Diamondback offered Yorkis an invitation to spring training on a minor league contract that would require Yorkis to fly to Phoenix for a physical and miss the family gathering in the Dominican Republic. After 19 years of professional baseball, being traded 4 times and released 6 times, no one would have faulted Yorkis for calling it quits.
A Tragedy in the Sky
Less than 24 hours before Yorkis and his mother Rosa were to board their flight to the Dominican Republic, Rosa called her son and talked him into flying to Phoenix for his final chance at making it to the biggest stage in baseball. Yorkis, never one to ignore his mom's advice, agreed to miss his trip to the Dominican Republic and instead gave his American Airlines Flight 587 ticket to his sister Angela. That phone call would be the last time Yorkis ever spoke to his mother as American Airlines Flight 587 plummeted from the sky almost immediately after take-off from John F. Kennedy International Airport killing all 260 passengers/crew on board, Rosa and Angela included.
"It was the most devastating moment of my life, I should have been on that plane, I shouldn't be here right now", Perez told GBA. Despite being in total shock, the promise he made to tryout for the Diamondbacks and Rosa's proverbial saying "Tomorrow's a new day" resonated throughout Yorkis' mind and heart after the plane crash.
With nothing more than a duffel bag and a heavy heart, Yorkis flew to Phoenix for his physical and began training with the Diamondbacks. After a solid spring training, Yorkis felt confident that we was going to make the Diamondbacks opening day roster in 2002 as their left handed specialist. With just a week left before the big league season was to open, the Diamondbacks released Yorkis. After all of the recent tragedy, being released by a baseball team didn't have the sting that it once did.
Once again, it looked like the end of the road for Yorkis who at 34 years old hadn't even stepped foot on a big league diamond in over two years. "One more chance, it's the story of my life", Perez said and just like that the Baltimore Orioles called Yorkis for what would be his final appearance in a Major League uniform. Yorkis appeared in 23 games for the Baltimore Orioles in 2002 and every pitch was dedicated to Rosa and Angela. With an aging arm and a desire to spend more time with his family, Yorkis made the decision at the end of the 2002 season that all professional athletes struggle with: retirement.
It's been 15 years since Yorkis last threw a professional pitch but he's grateful for every moment that he's alive. Yorkis now lives in Santo Domingo with his wife and children where he is the face of Liga Isabelita, a local youth league where his son Yorkis Jr. is an up and coming baseball prodigy.
Global Baseball Adventures had the honor of Yorkis coaching and sharing his life story with the high school baseball players from Mill Valley, CA during their June 2017 Dominican Republic baseball trip. His big presence, baseball knowledge and sincere desire to help the American players that visited the Dominican Republic brought smiles to all who participated in the trip.
During Global Baseball Adventures final game in the Dominican Republic, Yorkis could be heard calling pitches to the Mill Valley high school pitchers. With every strikeout Yorkis was seen jumping up and down with a grin that spanned ear to ear. Although the teens from Mill Valley lost that final game, Yorkis sat all of them down at the end of the and gave them some useful advice, "Tomorrow's a new day".