Your Baseball Trip of a Lifetime
It's the place where baseball dreams are made. The birthplace of Juan Marichal, Robinson Cano, Pedro Martinez and hundreds of major leaguers. This island, so inextricably immersed into the culture of baseball, is the Dominican Republic.
Former Major Leaguers have been handpicked to be your coaches for the week. Action-packed games will take place across the island and you'll experience exciting cultural activities on a daily basis.
Upcoming Camps
We're back! Our 2022 trip has been scheduled to take place from June 14, 2022 – June 21, 2022!
Contact Isaias at +1 858 220 5852 to ask a question about our future schedule.
The Experience
Baseball Heaven
There is no place quite like it. The Dominican Republic is a slice of "Baseball Heaven", where the game is much more than a national passion – it's an integral part of the island's ethos and identity.
In the Dominican Republic, it's all baseball all the time. This beautiful Caribbean island will be your spring training, World Series and little league memories wrapped into one.
From the moment you set foot in the Dominican Republic you're treated like a big leaguer. Our professional team will handle all the details of ground transportation, meals and lodging. We will organize all of your baseball playing time and a range of memorable off-field activities, ensuring that you have the time of your life.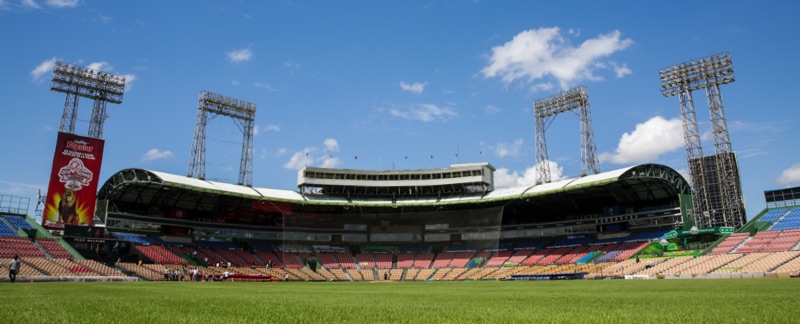 During your trip you'll play five full games and get skills instruction from former Dominican Big League players and coaches. Our playing facilities include:
The Boca Chica complexes – home of over 20 MLB team training academies.
The Estadio Quisqueya Juan Marichal – home of the fabled Licey Tigers and Leones de Escogido.
An array of local youth leagues whose fans come out in droves to root for Global Baseball Adventures every time we set foot in their towns!
Your Coaches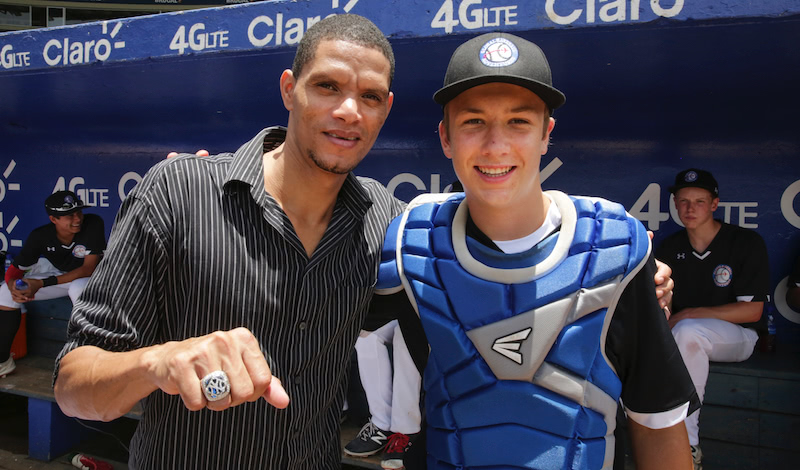 You'll have a once in a lifetime opportunity to spend the week with former MLB players that hail from the Dominican Republic. They'll spend the entire week traveling across the island with you, sharing their knowledge of the game and coaching you on every facet of baseball.
Cultural Immersion
Our International Baseball experiences offer a deep cultural immersion. You will live like a true Dominicano and be immersed in the sights, sounds and aromas of this wonderful culture.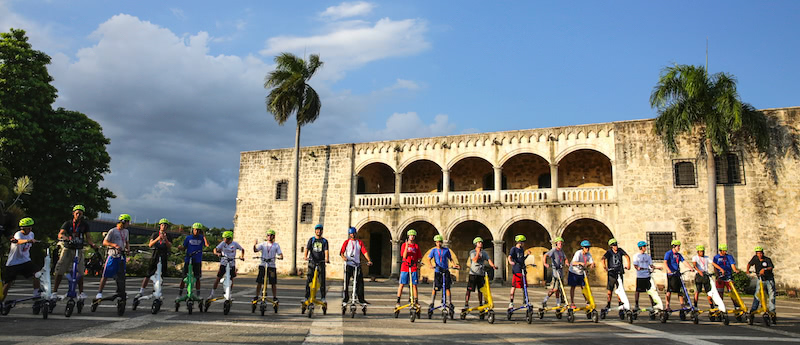 Throughout the week campers will dine in the best Dominican restaurants, travel through the countryside and play ball with enthusiastic locals. Players will tour the historic Zona Colonial of Santo Domingo where Columbus' castle still stands and lounge in beachside cafés along the way. Our players will create memories that will last a lifetime.
Service-based Activities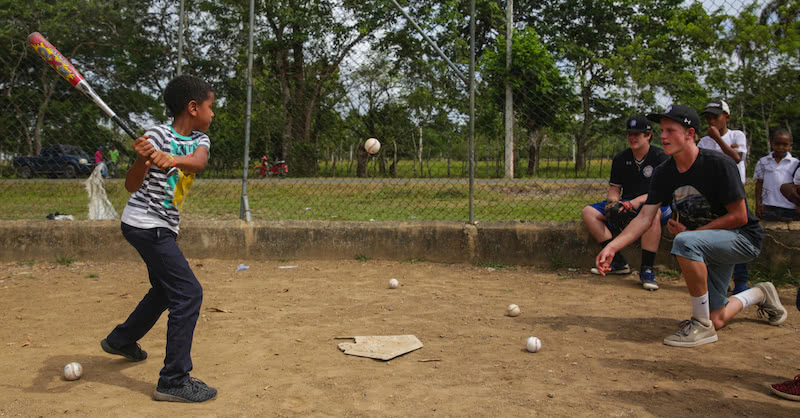 We believe that providing our players with experiences to make a difference in the lives of locals is just as important as playing ball.
Our itineraries are created with this in mind and continually inspire our players to give back to others through an array of activities including:
Serving meals
Equipment donations
Free baseball clinics
Our Cultural Immersion Program (an opportunity for local players to spend the week with us based on their school merits)
Accommodations
All players, family members and staff will be staying at the exclusive Casa del Lago resort and country club – located just five minutes from the picturesque seaside village of Juan Dolio and only 15 minutes from the famed baseball complex at Boca Chica. These luxury condominium units include access a pool, spa, gym and the prestigious Guavaberry Golf and Country Club.
We are proud to offer a wide variety of lodging and condominium amenity packages to suit your particular needs. If you want to bring a friend or family member along for the journey – no problem!
Meals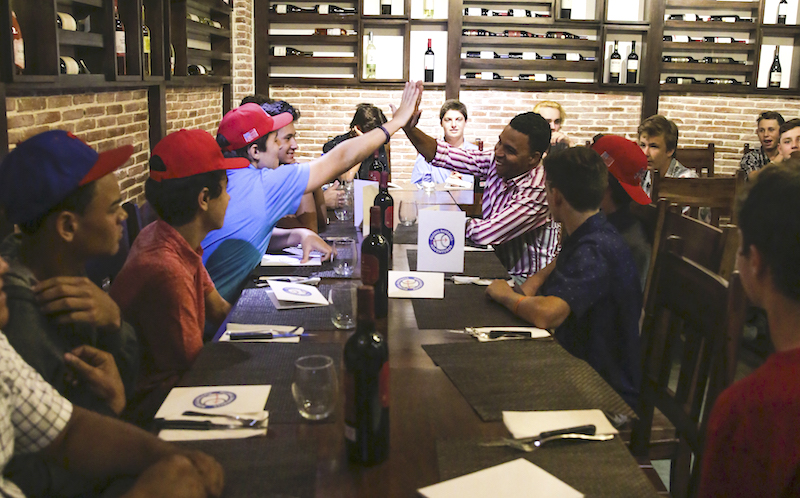 All camp packages include three meals a day at a variety of high end restaurants and catered meals at the ball fields.
Breakfasts
Are served at the Pekara Bake Shop & Cafe next to the resort accommodations. Pekara is ranked as one of the top breakfast spots in all of the Dominican Republic as noted on Tripadvisor!
Lunches
Will vary depending on the daily schedule. While playing at the Boca Chica training complex there will be catered lunches provided. The schedule also includes lunch at the world-famous Pura Tasca restaurant in Santo Domingo; and a lunch on a Caribbean beach.
Dinners
The evening meals provide a wonderful opportunity to sample traditional Dominican cuisine from locations including:
Camp Schedule
Each day in camp will immerse campers into the world of Dominican baseball and culture. The camp itinerary is structured to allow for an exciting playing schedule, daily "give back" opportunities and time to explore the island. An in depth pre-travel parent/player meeting will take place before all trips where coaches/chaperones will answer parent/player questions and hand out an informative trip packet that covers all aspects of travel.
Sample Itinerary:
DAY 1 – Travel Day
DAY 2 – Opening Day Ceremony
Arrive at Santo Domingo Las Americas International Airport
Snacks and poolside relaxation
Opening night ceremony: receive jerseys from your big league coaches
DAY 3 – Juan Marichal Day in Santo Domingo & Lunch with a Yankee
Dress out in your own locker at Juan Marichal Stadium (25,000 seat capacity)
Spend the morning taking live fielding and BP with your big league coaches
Game 1 VS Dominican High School team
Authentic Dominican lunch with '08 World Series Champ Edwar Ramirez
Post game team photos at stadium
Spend the evening at beachside Caribbean restaurant
"Big League Stories by the Pool"
DAY 4 – Baseball City & Youngest Big League Player
Tour "Baseball City" in Boca Chica, home of the San Francisco Giants Dominican academy
Spend the morning being coached by major league pitcher Yorkis Perez, one of the youngest players to ever sign a big league contract
Game 2 vs Yorkis Perez's baseball academy team
Authentic Dominican lunch at Yorkis Perez's baseball academy
Dinner at the beautiful Boca Marina resort
"Big League Stories by the Pool"
DAY 5 – Giving Back to the Dominican Republic & Caribbean Sites/Sounds
Spend the morning giving back to the town of San Pedro by hosting a free youth clinic and participating in a field rebuild project.
Take in the sites and sounds of the Colonial Zone on a personalized Segway tour.
Spend the afternoon on the beautiful beaches of Boca Chica.
Travel to the seaside village of Juan Dolio for dinner
"Big League Stories by the Pool"
DAY 6 – Dominican Road Trip
Travel to Fantino, home of big league coach Pedro Liriano
Host a youth baseball clinic for local players age 5-10 years old
Game 3: USA vs Fantino
Lunch with Dominican teammates and equipment donation
Take in the beautiful sites of the Dominican countryside on the bus ride home
DAY 7 – Robinson Cano Academy & Closing Night Award Ceremony
Spend the morning at Robinson Cano's personal baseball academy in San Pedro where players will be coached by an array of professional instructors
Game 4 vs Robinson Cano Academy
Lunch with Robinson Cano Academy players & staff
Afternoon at Casa Del Lago private beach club
Closing night awards ceremony
DAY 8 – Departure Day
Pack up and check out of Casa Del Lago Country Club
Final team breakfast
Visit the Dominican Republic Baseball Museum
Van ride to Santo Domingo Las Americas International Airport for flight home
Pricing
Players
$3500
Double occupancy room in a master condominium suite
All inclusive camp experience with roundtrip airfare to and from the Dominican Republic (see FAQ below)
Friends & Family
Friends and family are encouraged to join us for an all-inclusive week of amazing baseball spectator experiences and in-depth exposure to the Dominican Republic's culture, music, food, beaches and history.
$2800
Double occupancy room in a master condominium suite
Access to everything except the daily baseball games
Camp FAQ
What's included in my camp fee?
Round trip airfare to & from the Dominican Republic
Accommodations at the Casa del Lago Resort
Breakfast, lunch, and dinner daily
All ground transportation in the Dominican Republic
Baseball activities including games at the MLB Boca Chica training complex and Estadio Quisqueya Juan Marichal
Baseball coaching and instruction from former Big League Dominican players
Baseball-related laundry
Daily community service opportunities
Cultural and beach-related activities
Sightseeing Tours
Bottled water/sports drinks
Official GBA game hat
Official GBA game jersey
Are scholarships available?
Yes! Global Baseball Adventures strives to make sure that all ball players can experience the magic of visiting the Dominican Republic. Two scholarships of $500 each are awarded per trip based on financial need.
Are payment plans available?
Yes. A $500 non-refundable deposit is due upon signing up your child for this once in a lifetime baseball trip. From there, Global Baseball Adventures sets up a payment plan for all participants with due dates and specific fee amounts. The final trip balance must be paid in full 30 days prior to departure.
Is travelling to the Dominican Republic Safe?
Yes. The Dominican Republic is a democratic nation with a stable government and a growing infrastructure which has lead to a booming tourism industry due to traveler safety and the island's natural beauty.
What documents are needed to travel to the Dominican Republic?
All players need a valid passport to travel to the Dominican Republic. Additionally, Global Baseball Adventures requires each player to have a signed and notarized "Consent to Travel Abroad" form giving them permission to travel outside of the USA with their Global Baseball Adventures coaches/chaperones. Upon entering customs in the Dominican Republic, players have to purchase a $10 tourist visa.
What type of supervision are players provided with?
Global Baseball Adventures prides itself on it's 3:1 player to staff ratio. Players are always under direct supervision of our credentialed coaches & chaperones in order to ensure everyone has a safe and memorable experience.
What baseball gear should I bring?
Glove
Protective equipment
White baseball pants
Black baseball socks
Personal items
Plastic cleats (metal cleats are allowed but not recommended)
Your own bat (please be aware of TSA security and airline baggage policies regarding travel with any bats)
What is the weather like in the Dominican Republic?
The so-called 'cool' or winter season, runs from November to April. The humidity is relatively low during these months and it tends to cool down in the evenings much more than in the summer months. The coastal/beach regions generally experience highs of around 28°C (83°F) during the day and lows of about 20°C (68°F) in the evening.
The summer season in the Dominican Republic runs from May to October. Average daily highs for the coastal/beach regions rise to around 31°C (87°F) during the day, dropping down to about 22°C (72°F) at night. It is the higher humidity during this period that can make it feel much hotter during this season.
How should I pack?
Casual, light clothing is advised. Your non-baseball schedule may include pool and beach time as well as tourist activities in a tropical climate. T-shirts, shorts, jeans or khakis are more than adequate. Please bring two pairs of business-casual attire for our opening and closing night dinners.
How will my roommate be selected?
All campers will share a double-occupancy room. We will honor roommate requests but otherwise will assign roommates based on coach recommendations.
Will there be a trainer and doctor available while I'm in camp?
We will have certified trainers available to you all week long in case injury or other physical needs occur. Additionally, a nurse will accompany the players and their guests throughout the course of the camp. A qualified physician will be on call.
Will there be other expenses while in camp?
Campers are responsible for:
Payments & Cancellations
A $500 non refundable deposit is due at the time of registration.
Global Baseball Adventures will setup a payment plan for the remaining trip balance with final payment due no later than 30 days prior to trip departure.
All cancellations must be sent to Global Baseball Adventures in writing, via email.
Global Baseball Adventures reserves the right to cancel the camp for any reason, at any time prior to commencement of the camp. In the event of such a cancellation, all participants will be entitled to a full refund.
^